Agrointek is an open access journal that publish by department of Agroindustrial Technology, Faculty of Agriculture, University of Trunojoyo Madura. Agrointek publish original research or papers review on subject agroindustry that including Food Engineering, Management System, Supply Chain, Processing Technology, Quality Control and Assurance, Waste Management, Food and Nutrition Sciences from researcher, lecture and practisioner. Agrointek publish twice a year on March and August. No author fee for submiting article till delivery to author mailling address.
Please see our GUIDELINE FOR ONLINE SUBMISSION for information an article submission.if you require further information or help please contact us
Please feel free to explore our article since 2010 View Article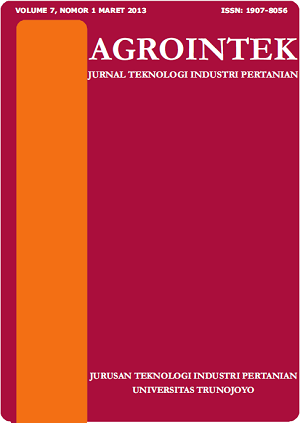 Announcements
No announcements have been published.
Vol 11, No 2 (2017)
Table of Contents
Article
| | | |
| --- | --- | --- |
| | Tantri Yulianti, Dewi Cakrawati | 37-44 |
| | | |
| --- | --- | --- |
| | Eduard Fransisco Tethool, Angela Myrra Puspita Dewi, Abadi Jading | 45-52 |
| | | |
| --- | --- | --- |
| | Sri Winarti, Enny Karti Basuki Susiloningsih, Ferry Yusuf Zaenal Fasroh | 53-62 |
| | | |
| --- | --- | --- |
| | Irma Badarina, Jarmuji Jarmuji, Dodi Permadi Gultom | 63-67 |
| | | |
| --- | --- | --- |
| | Yessy Rosalina, Laili Susanti, Noveriani Br Karo | 68-74 |
| | | |
| --- | --- | --- |
| | Lukman Hidayat, Fitri Electrika Dewi Surawan, Arga Harianda Lumban Raja | 75-83 |
| | | |
| --- | --- | --- |
| | Risa Dewi Munica, Millatul Ulya, Muhammad Fakhry | 84-91 |